If you want to experience one of the world's top island nations, then a visit to the Maldives is your way to go. Here are some of the great things you can do here: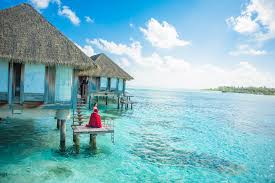 Have a Private Picnic
Relax and enjoy a day at Amilla Fushi and have a pre-ordered picnic full of Maldivian's best such as cheeses, lobster and don't forget a bottle of champagne. Enjoying a sandbank picnic for a day will have you appreciate the surrounding turquoise hues of water and its pristine, white sand.

Snorkelling and Diving
The Maldives offers the best snorkelling and diving activities in the world. Enjoy the spectacular underwater scenery with their usual schools of colourful tropical fish, tortoises, reef sharks, stingrays, and whales. Visit Hanfaru bay which is the largest feeding station in the world and is also protected by Unesco and see marine life up close.

Underwater Spa
For the ultimate relaxation experience try the underwater spa at Per Aquum Huvafen Fushi. Enjoy a day couture facials, cold ice, hot rocks, champagne and truffles meant for your body while having the treatment surrounded by glass walls. Stare out into the beautiful ocean and enjoy the marine life surrounding you.

Local Culture
The Maldives offer high-end luxury as most resorts want to give their guests the royal treatment. But the Maldives is also rich in culture and heritage which you can also experience. You can also visit Thulhaadhoo for the arts and crafts.

Enjoy the Party
If you want to party up while still enjoying the beach go to Finolhu in Baa where party events hosted by internationally-acclaimed DJs can be found. You can also find the Fish and Crab Shack where soft crab tacos are served.